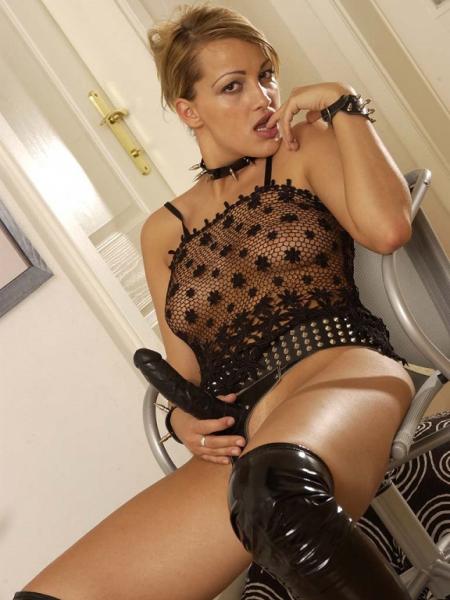 I love my job as a PhoneMate. I love taking all of your phone sex calls, no matter what the fetish. Today I had a wonderful call from a sissy cross-dresser. She spent almost 10 minutes just describing herself, what she was wearing, how she had grown her hair, and how much she loved being a girl. But it was my job to turn her on and get her off so I wove the following story…
Imagine you're lying face down on your bed in your prettiest panties. A man is in the room with you, he is terribly good-looking, handsome face, solid head of hair, strong arms and strong hands, piercing eyes, a muscular ass, and a really nice package. He comes up behind you and places himself on top of you, but not touching you. He starts by kissing your neck, and tracing the line with his tongue down your spine to the top of your panties. He takes one finger and lightly runs it underneath the waistband of your panties. He edges them down a little bit, including the front, until your own handsome "clitty" and "ass pussy" are fully exposed. This phone sex call was getting pretty hot.
He starts by rubbing your ass with his strong hand, and every time his fingers graze the crack of your "pussy", he applies some pressure with a couple of his fingers. He takes his other hand and gently holds your ass cheeks open, revealing your secret special part. He takes some lube from the bedside table, lubes up your pussy, and a couple of his fingers. He continues to rub your ass but now when his fingers graze your pussy a couple of fingers violate the rim. You love this. You beg for more… More fingers.
You are now naked and laying in such a way that his hard cock is pressed against your thigh. He squirts a little more lube on your pussy, and firmly pushes 3 fingers inside of you. He begins moving them in and out in a rhythmic fucking motion, you can feel your pussy wrapped tightly around his fingers, yielding slowly…
Our phone sex call continued…
https://myphonesexfetish.xxx/profile/5196-mistress-annalise.html
Are you a sissy cross dresser? A pathetic cuckold? A miserable submissive? Call us at 1-800-485-9561 for sissy phone sex calls, cuckolding phone sex calls, dominant/femdom phone sex, abusive and demeaning phone sex calls, and taboo/no holds barred phone sex calls.